Do you want to improve the appearance of your teeth? Are you thinking about getting dental veneers? Damaged or discolored teeth can be difficult for many people, affecting their self-esteem and confidence. You might consider veneers if you have chipped, stained, or uneven teeth.
Before you jump into a big decision about getting This Procedure, you need to know everything there is to know to make an informed decision about your oral health. So let us explore everything about snap-on veneers!
What are teeth veneers?
Teeth veneers are thin porcelain or ceramic and plastic compound coverings fitted to the front exterior of teeth to enhance their appearance.
Veneers Vs. Crowns Vs. Implants, what are the differences?
Veneers, dental crowns, and dental implants are all designed to change the appearance of teeth to make them more esthetically pleasing. However, there are differences between them.
Dental Veneers are applied over the front of a tooth, and implants replace missing teeth. Crowns, however, cover the whole tooth, making it the best procedure to cover broken teeth. They can also help strengthen the teeth that they cover.
How much do teeth veneers cost?
Veneers' prices differ on many factors, such as how many teeth need cover and the dentist's experience carrying out the procedure.  
Veneers can cost anywhere from $925 to $2,500 per tooth. A composite veneer can cost anywhere from $250 to $1500 per tooth.
These costs vary based on the following:
what type of veneer have you chosen

the amount of work needed before the procedure

where you are situated in the world
Veneers are cosmetic surgery, so most insurance plans will not cover the procedure.
Dental Veneer Types
There are two types of teeth veneers. Porcelain veneers and composite resin veneers. Both are outlined in detail below:
Composite veneers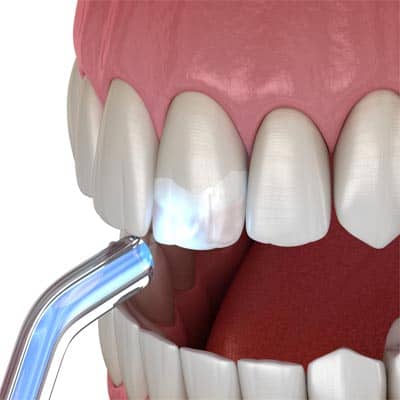 Composite resin veneers are a more cost-effective option compared to porcelain. However, this type can only last about 2 to 5 years. The upside is that they are easier to restore.
To prepare your teeth to fit resin-based veneers, the dentist will need to clean, reshape and prepare your teeth. Once the dentist has prepared your teeth, they will bond and mold the composite material, ensuring the coloring is correct for a more natural look.  
To harden the composite materials, the dentist will use a light to speed up the process. Once hardened, they will smooth and polish to make the teeth look more natural for a perfect smile.
Porcelain Veneers
The porcelain type is the most appealing and least damaging substance obtainable for dental restorations. It is also the most robust and sustainable of all veneer materials. They can last for 15 – 25 years.
Porcelain is considered biocompatible. This means that they are not harmful to living tissue. As a result, these veneers are extremely popular as they create the most natural-looking teeth. 
The dentist will need to reshape the tooth. A grinding tool can apply a numbing agent before removing the enamel. 
After the enamel has been removed, the dentist will make a mold of your tooth/teeth. Then, the dentist will transport the impression of your teeth to a dental laboratory where the veneer is created. The modeling of your veneers can take up to 2 days. You can request temporary veneers while you wait for the porcelain ones. 
At AstaDent Clinic Turkey, we have highly skilled Dentists in the Dental treatments field. In addition to the experienced medical crew and the Clinic, which is equipped with advanced technologies. Click here to get an appointment for a free consultation.
Veneers before and after
Which snap-on veneers are best?
Composite veneers and porcelain veneers look almost the same, but some essential differences exist. 
| Type | Porcelain veneers | Composite veneers |
| --- | --- | --- |
| Cost | Costly | More affordable |
| Tooth Cutting | Can require trimming enamel | Enamel removal may not be required |
| Time | Can take up to 2-3 appointments | It can be done in 1 appointment |
| Last | It can last up to 15 years | It can last up to 7 years |
| Stain | Does not stain | Can stain as time goes by |
| Durability | More durable | Less durable |
| Repair | Harder to repair | Easier to repair |
People decide which veneers they prefer based on their finances, requirements, and desires.
A dentist should always be consulted when choosing which type of veneer you would like, as everyone is unique, and not every type of veneer will work for you.
Why You Would Need Dental Veneers
 The Purpose of snap-on veneers is to conceal or improve dental faults such as: 
Skew teeth

Cracks and chips

Gaps

Stains

Discoloration

Deterioration of teeth 
Diagnosis and treatment planning 
It would be best if you were explicitly clear on what you are looking for when choosing veneers. 
Your dentist will inspect your teeth, make an expert decision on whether dental veneers are the right option for you, and explain the process, including all the pros and cons of veneers. There is a possibility they will take X-rays and make a mold of your teeth.  
Bonding
Once your veneers are ready, your dentist will position the veneer on your tooth and make sure it is a perfect fit. This process can be lengthy as they must constantly remove the veneer and trim it to ensure it fits properly. He will also need to perfect the coloration before using dental cement to apply the veneer permanently to your tooth/teeth. 
Pros of Porcelain Veneers
Produce natural-looking teeth.

Biocompatible

Blemish resistant

Custom-made in a variety of colors for a whiter smile.

They are more robust and easier on the eye compared to crowns.
Cons of Porcelain Veneers
 The downsides to porcelain include the following:
They are permanent.

They are more expensive than

composite types.

May is not able to repair chips or cracks.

Due to the enamel removal process, you might be more sensitive to hot and cold food or drinks. 

Perfecting the color of your veneers to your regular teeth might be tricky. If you are thinking about whitening your teeth, you should do so before your veneer procedure, as you can not change the color of your veneers once they have been bonded to your teeth.  

There is a minimal chance that your

veneers

could loosen or fall out.

To avoid this, you should try not to bite down on complex objects such as candy, ice, and pens. You should also avoid trying to open objects with your teeth.
Your teeth can still deteriorate with veneers, requiring your dentist to apply a crown. 
You will not be a suitable candidate for veneers if you have the following issues:
Decay
Gum disease
Week teeth (due to deterioration, splitting, sizable fillings)
Not enough enamel on your teeth
Grinding teeth. Grinding can cause

porcelain veneers

 to chip or crack.
Pros of composite veneers
They are more affordable than porcelain.

The process can be shorter than porcelain, and sometimes the application can be made on the same day. This would be ideal, for example, for someone who chipped a tooth right before their wedding day.
Cons of composite veneers
Not as natural-looking as veneers.

Not as strong as 

porcelain

. They can be more vulnerable to chips and erosion.

They are just as susceptible to staining as your normal tooth enamel.
At AstaDent Clinic Turkey, we have highly skilled Dentists in the Dental treatments field. In addition to the experienced medical crew and the Clinic, which is equipped with advanced technologies. Click here to get an appointment for a free consultation.
Aftercare 
Aftercare for your snap-on veneers procedure is relatively easy. However, you will be asked to go for a follow-up appointment. During this appointment, your dentist will inspect your veneers to ensure they are still in place and you are happy with the feel.
During this appointment, you should take the opportunity to mention any concerns to your dentist. For example, if your veneers feel uncomfortable, you should address this with your dentist so he can repair any faults.
Food and beverages can be a concern once you have veneers. It would be best if you tried to avoid coffee, tea, wine, or any food or beverage that could stain your regular teeth. Over time teeth that have not had the procedure can stain, and the coloration will differ from your veneers.
After your procedure, you may notice course patches on your veneers. If they do not smooth out after time, you should consult your dentist to smooth them out for you. These course patches could be due to leftover bonding material.  
Once you have gotten your veneers, you are not exempt from cavities. Brushing and flossing are still essential when you have veneers. Practicing good oral hygiene is always a good way to preserve your regular teeth and veneers.  
Depending on which veneers you choose, they can last up to 10 years if you take good care of them. It would help if you discussed proper care of veneers with your dentist to ensure they last as long as possible. Depending on which veneers you choose, you should discuss how long it will be before you have to replace them with your dentist.  
Veneers can significantly improve your teeth, creating the perfect smile. It is a good option if you have stained, cracked, or chipped teeth. If you can afford veneers, you will not be disappointed. Do your research and ensure you go to a reputable dentist for the procedure. If you want the best smile, then it is worth the cost. Choose your type of veneers wisely, as they are permanent, and you will be stuck with them for many years.  
Contact Us Today
Lastly, if you need to know more about this procedure or have more questions about other procedures, we offer a free consultation on WhatsApp Or Fill out The Form Here.
In AstaDent Clinic Turkey, we offer high-quality, specialized, and affordable dental treatment services. Visit Our full article about Teeth Crowns, or go back to the Blog.
dental veneers FAQs