Do you have crooked teeth?
There are different methods to straighten teeth, but do you want your smile hidden under metal? Then, lingual braces can be the perfect solution.
Braces were designed to slowly move your teeth into a perfect position, making for a straight and gorgeous smile. Most people think that only children require braces, but the truth is that 25% of American adults wear braces as well.
What Are Lingual Braces?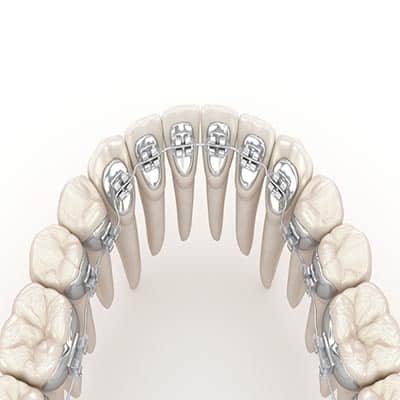 Some people fear getting braces because they do not want to be teased. However, lingual braces are the perfect procedure as they are placed behind your teeth, hiding them from sight.
Your dentist will need to take an imprint of your teeth and send it to a dental laboratory where your braces inside teeth will be customized to fit your teeth. The whole process takes about six to eight weeks. Once they are ready, your dentist will apply them to the back of your teeth using dental cement.
The straightening process is similar to standard braces, where pressure is repeatedly applied, steadily aligning your teeth into their desired position. The time frame of this process varies, depending on the overcrowding of your teeth and your bite. Typically it can take around 18 – 36 months.
Not all dentists offer inside braces as they require specialist training and equipment. Therefore, it is best to do your research and find recommendations for a qualified specialist.
Am I a Good Candidate?
An orthodontist specializing in lingual braces will be the only person who can answer this for you. They will examine your teeth and suggest possible treatments.
These braces can improve crooked teeth as effectively as regular types; however, they are not the right fit for everyone.
People with severe overbites might have problems with brackets unbuckling more often.
If you have your heart set on this procedure, speak to your dentist and determine if they are the right option. Ask a lot of questions and inquire about all the procedures available to you.
At AstaDent Clinic Turkey, we have highly skilled Dentists in the Dental treatments field. In addition to the experienced medical crew and the clinic is equipped with advanced technologies. Click here to get an appointment for a free consultation.
The Pros and Cons
The Pros
They are hidden behind your teeth, making them invisible.
They are an effective solution to straightening your teeth.
They are customized to personally fit your teeth, making them more comfortable and practical.
The Cons
Costs are higher than traditional braces.
You can experience pain and discomfort while trying to get used to them.
It can affect your speech; most people experience a lisp until they get used to them.
There is a possibility that the process can take longer than traditional braces.
How much do they cost?
Many factors will influence the price of lingual braces:
Your location
The type you have chosen
Some dental insurance plans might cover the cost
The duration of your specific treatment
You can discuss the cost of your treatment with your dentist and whether they provide a payment plan.
The procedure is more intense and lengthier than traditional braces, making it more expensive. In addition, they are specially designed to fit your teeth which also increases their price.
Braces inside teeth are bent to align with the contours of your mouth to shorten the treatment, and you will pay for this customization.
Wires for traditional braces are bent in a generic horseshoe shape, almost like one size fits all situations.
According to Oral-B, traditional braces can cost $3,000 to $7000, depending on your specific requirements.
Here is a list of different straightening procedures and their estimated cost:
| Braces type | Average cost |
| --- | --- |
| conventional metal braces | $3,000–$7,350 |
| ceramic braces | $4,000–$8,000 |
| Invisalign | $4,000–$7,500 |
| lingual braces | $8,000–$10,000 |
What are the Side Effects?
1- Lisping
The most significant side effect people experience with inside braces is a slight lisp. For your tongue to make certain sounds, it needs to brush against the back of your teeth, which could cause a lisp when making contact with your braces.
While this may be annoying at first, you will quickly get used to the sensation and start to talk usually again. Most people have confirmed that their speech returned to normal after about a month.
You can obtain certain brands of brackets that will limit speech impairment. You should consult with your orthodontist about which brand will best suit your expectations.
Some people experience a severe lisp and seek out speech therapy techniques to assist in their mission to illuminate their lisp.
You can also experience:
Excess salivation
Could irritate your tongue, leading to ulcers
They are hard to clean, which can lead to tooth decay
Although these seem excessive, it is still worth it. Nothing in life is easy, and if you want that perfect smile without the appearance of metal, this type is perfect for you.
Are Lingual Braces more comfortable than Braces?
Braces, in general, are irritating and uncomfortable when first applied. In addition, braces apply pressure to your teeth to straighten them out, which can be painful and cause discomfort.
The pain is minimal and can be managed with over-the-counter pain medication. An ideal way to prevent further discomfort is to eat soft foods like soup, pasta, rice, yogurt, and scrambled egg. This will only be for a limited time until your pain subsides.
Your tongue will most likely experience the most pain with inside braces, as it often brushes up against your teeth, causing minor cuts and inflammation.
Some people experience more pain than others. As a result, manufacturers are trying to improve lingual brackets by making them more compact and polished.
If the pain is unbearable, you could try applying topical tooth pain relief gel to the soft tissue in your mouth.
Another alternative would be to apply a small amount of wax to the pointy edges of your braces. If you have a wire that is jabbing you, consult with your dentist to have it clipped, which will prevent it from causing further pain.
What Foods Can I Eat with braces inside my teeth?
While recovering from your procedure, there is food that you should eat to avoid causing more pain.
Once you have healed, you will still have restricted foods to avoid to protect your braces from deterioration.
There are many foods softer in texture you can still enjoy that won't harm your braces:
Mashed potatoes
Rice
Pasta
Pancakes
Soup
Cheese
Bread
Puddings
You can also enjoy slow-cooked foods such as stews and casseroles.
Stay away from foods that will harm your braces and result in an appointment with your dentist, such as:
Licorice
Hard rolls
Bubble gum
Caramel
Toffees
Lollipops
Chips
Nuts
Pretzels
Popcorn
Apples
Corn
Raw carrots
Aftercare
You want to make sure that you are practicing good oral hygiene with any dental treatment.
You could encounter gum disease or cavities if you do not take care of your braces.
Here is a list to help you keep your teeth healthy and strong:
You should spend 2 minutes twice a day brushing and flossing your teeth.
It would be best to use a soft toothbrush to brush your gum line and teeth gently.
Next, use a Water Flosser to help illuminate any food debris stuck in your braces and teeth.
Finally, you can use a fluoride rinse to help strengthen your teeth.
You will be required to have your teeth cleaned professionally every six months. This practical cleaning will prevent plaque build-up, which may lead to gum disease and deter cavities.
Takeaway
Lingual braces are perfect for people that want their braces hidden and aren't afraid of the discomfort.
The cost might deter you, but you should inquire about your dental insurance coverage; they may cover this procedure fully or even partially. This might help you make a more informed decision on what you want.
Get as many quotes as possible, as the treatment price varies depending on your location.
If you are looking for a speedy procedure, inside braces are not for you. This procedure is a lengthy process that will require patience and discipline.
Pain is inevitable while getting used to your braces, and you can expect a slight lisp for about a month after being applied.
To ascertain whether braces inside teeth are the best fit for you, visit your dentist, where you will be evaluated. After your evaluation, your dentist will discuss all the available options for your specific situation.
This technique provides the same outcome as traditional braces without compromising your smile.
Your journey might be uncomfortable and long, but in the end, braces inside teeth will leave you with a flawless and engaging smile.
Contact Us Today
Lastly, if you need to know more about this procedure or have more questions about other procedures, we offer a free consultation on WhatsApp or Fill out The Form Here.
In AstaDent Clinic Turkey, we offer high-quality, specialized, and affordable dental treatment services. Visit Our full article about What Is Invisalign, And How Does It Work?, or go back to the Blog.
FAQs